Branch Awards
Sunday 19 December 2021
CAMRA awards are given only to the best pubs and clubs, and to the hard-working people who make them a success. North Beds Branch has made seven awards for excellence in 2021 to five traditional pubs, a popular urban micropub and a social club. Branch chairman Dan Veal commented: "I am delighted that we can again honour some of our best pubs and clubs. They are all different, but each seeks to serve, and is part of, its local community. Together they demonstrate the variety of the best real ale and cider outlets and I look forward to presenting their awards." Framed certificates have been presented to the award winners. You can find more information about them all in CAMRA's online pub guide at www.whatpub.com.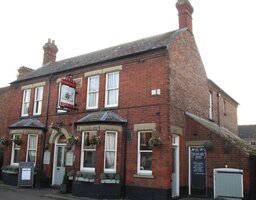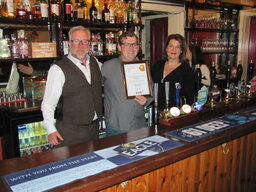 Devonshire Arms, Dudley Street, Bedford. Branch Pub of the Year 2020 and 2021. Town Pub of the Year 2019. Cider Pub of the Year 2018. Hearty congratulations to licensees Ronnie and Rebecca Toms at the Devonshire Arms for winning our top pub award for a second successive year, following other branch awards in the previous two years. A traditional community pub at the heart of the Russell Park residential area and a Wells house for its whole 120 years, the "Devvy" is well supported by local people. There is a warm, friendly atmosphere, an open fire in winter and even candlelight. The front bar has bare floorboards and an open fire, while there is a separate snug at the rear. The garden is popular for sitting out in good weather and includes both a gazebo for smokers and a no-smoking paved area. Traditional pub games like crib and dominoes are played regularly. The Devvy offers two regular real ales from Bedford's Eagle Brewery and four guest ales either from the new Brewpoint or sourced more widely. Real ciders are also available from chilled boxes in the cellar. A range of wines is also sold by the glass or bottle. Beer and cider festivals are usually held twice a year. Although the pub does not offer full meals on a regular basis, tasty pies are usually available from the bar and snacks may be provided during festivals. For more information, call 01234 301170, visit the pub website or follow the pub on Facebook.
Fox, High Street, Carlton. Country Pub of the Year 2016, 2017, 2020 and 2021. Congratulations to owner-licensee Alison Thompson for a remarkable achievement by winning this award four times since buying the Fox a few years ago. A charming, thatched community pub on the old High Street off the Turvey road south-west of the modern village centre, the Fox has been a fine pub offering real ales for many years. However, Alison has made it even more special with a warm welcome for both regulars and casual visitors. An old, under-used restaurant was opened through into the bar, providing a larger and more flexible space for drinkers, diners and games players. The attractive garden is always popular with families in good weather. Competing for customers with several good rural pubs nearby, Alison and her team at the Fox have maintained their initial success and fully deserve our award for the fourth time. The regular real ales are Eagle IPA and Fuller's London Pride, with two frequently changed guest beers, often from local microbreweries. Cellar management is excellent, guaranteeing you a well-kept pint. Good value, home-cooked lunches are served from Tuesday to Sunday and evening meals from Wednesday to Saturday. There is a regular quiz on Thursday, occasional themed food evenings, a gin festival in June and usually beer festivals on the spring and summer bank holiday weekends, for which an outhouse in the garden provides an additional bar and cask stillage. There is regular live music at both festivals. For more information, call 01234 720235, visit the pub website [www.foxatcarlton.pub] or follow the pub on Facebook [www.facebook.com/TheFoxAtCarlton].   Beerfly, St Cuthbert's Street, Bedford Young Members Pub of the Year 2020 and 2021 Lockdown Hero Award 2020 Congratulations to owner Tim Edwards and manager Wes Neville for winning our Young Members Pub of the Year award for the second successive year. A cross between an off-licence and a micropub, Beerfly has become popular with beer lovers of all ages. A wide range of bottled or canned real ales is available, with a number of unusual and distinctive craft beers on KeyKeg dispense, including some from overseas and some that meet CAMRA's definition of real ale. Draught beer is sold in third-pints, half-pints and two-third pints, but not full pints. There is a good selection of bottled or canned beers that can be consumed on the premises for an extra charge, while draught beer from the taps can be taken out in flagons. The selection of beers changes frequently. A draught real cider is also available, but like all the beers the brand varies. Beerfly is closed on Monday and does not open late for the rest of the week: check the website for daily opening times. For more information, call 01234 303211, visit the website [www.beerflyshop.co.uk] or join its popular following on Facebook [www.facebook.com/beerflyshop]
Polhill Arms, Wilden Road, Renhold Cider Pub of the Year 2021 Congratulations to manager Barbara Deviney and Kelchner Brewery for winning our Cider POTY award just a few months after taking over this popular Greene King pub just outside Bedford. A family-friendly village local with a welcoming atmosphere and a large garden with play area, the Polhill Arms has a proud history of CAMRA awards under the previous landlord. There are regular quiz nights, regular live music and busy skittles. Two changing real ciders are available, together with Hardys & Hansons Bitter and up to four changing real ales from Greene King, Kelchner and guest brewers. Food is currently limited to a ploughman's or sandwich lunches, but more substantial evening meals may be offered in future. The Polhill Arms is closed Monday and Tuesday, and Wednesday lunchtime. For more information call 01234 771398, or visit the pub website [http://www.polhillarms.co.uk] or Facebook [www.facebook.com/polhillarmsrenhold].
White Horse, Newnham Avenue, Bedford Community Pub of the Year 2021 Congratulations to licensees Lucie & Stephen Fuller for winning our first local Community Pub award, which recognises their commitment to providing services to the local community. Three seating areas, each with its own style, are served from a single bar. The quizzes on Sunday (smartphone) and Tuesday are popular, as is the Monday evening jazz. Other musical events are advertised on Facebook. Food is freshly cooked to order. A choice of roasts is available on Sundays. Pre-booking is advised on Sundays and Tuesday evenings. The beer and wine selection is complemented by a wide choice of gins. Beers include Courage Directors, Eagle IPA, Marston's 61 Deep and three changing beers from Brewpoint and guest breweries. Afternoon tea can be ordered for groups. The pub is closed all day Monday and Tuesday lunchtime. Good value pub food is served at lunchtime and evenings until 9pm. For more information call (01234) 409306, or visit the pub website [https://www.thewhitehorsebedford.co.uk/] or Facebook [www.facebook.com/whitehorsebedford].
Gordon Arms, Castle Road, Bedford Most Improved Pub 2021 Congratulations to owner Wells & Co and to manager Alex Lawrence and his team for winning our Most Improved Pub award soon after the pub was re-opened in August 2021. Although our awards are rarely made this quickly, we regard the Gordon Arms as an exceptional case. What had become a rather tired and dowdy suburban pub has been extensively remodelled to create a distinctive and attractive lounge bar with discreet individual areas. There is also plenty of outdoor seating. The old Ent Shed entertainment venue has been reduced in size but is now fully integrated with the pub, creating an excellent, adjoining entertainment space and function room – the only music and comedy performance facility in Bedford's Castle Quarter. The pub is open daily with excellent pub lunches and evening meals available. Four, well-kept Eagle or Brewpoint ales are available on handpump, although so far no guest ales from elsewhere. For more information call 01234 348668, or visit the pub website [https://gordonarmsbedford.co.uk] or Facebook [www.facebook.com/gordonarmspub.bedford].
North End Social Club, Roff Avenue, Bedford Club of the Year 2021 Congratulations to the North End Social Club for winning our annual Club of the Year award. Founded in 1910 in former brewery offices, this is a club for families and friends of all ages with a friendly atmosphere and plenty of activities. New members, members' guests and visiting CIU members are always welcome. There is regular live entertainment on Saturday evening, a quiz on the last Tuesday of the month and bingo, pool, darts and skittles always available. The large function room upstairs is available to hire for weddings and private parties. The club is open lunchtime and evening on weekdays, and all day from Friday to Sunday. Well-kept Fuller's London Pride and a guest real ale are usually available on the pumps, but food is served only for special or private events. For information, call 01234 210359 or visit Facebook [www.facebook.com/northendclub19]
Regional and national awards Although CAMRA normally runs regional and national competitions for Pub of the Year, Cider Pub of the Year and Club of the Year, these were cancelled in 2020 because of the Covid-19 pandemic and will not run this year either.