Bedford Beer and Cider Festival 2021
Sunday 10 October 2021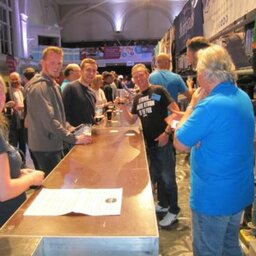 43rd BEDFORD CAMRA BEER & CIDER FESTIVAL 2021 ... was held on Wednesday 6th to Saturday 9th October 2021 at the Corn Exchange, Bedford
Although it was a smaller and simpler festival than we have been used to, it was great to get back to a form of normality. Here is a report by Fytton Rowland ...
The Beers were Back in Town
It was just like old times – the first week in October, and the CAMRA Bedford Beer and Cider Festival was on in Bedford Corn Exchange! After the festival had been cancelled for the first time in forty-three years in 2020, we learned at rather short notice that we could actually hold a festival in 2021. Our festival committee had been meeting since the spring, but its decisions remained provisional until CAMRA's National Executive decided that festivals could recommence. That didn't happen until July, giving us just three months to get everything arranged.
Many things had to happen quite quickly, and did, but even then the uncertain times had a few hand grenades to throw at us. Just a week before we were due to erect the scaffolding to hold up our 100 casks of beer, the fuel shortage suddenly cropped up. We learned that our usual scaffolding supplier couldn't guarantee to deliver, owing to difficulty in getting fuel for their lorries. But the headquarters of CAMRA stepped into the breach and lent us some racking, which served the purpose well. Like all CAMRA festivals, ours is run entirely by volunteer CAMRA members undertaking all tasks. We are very grateful to all our volunteers, those who worked behind the bar as well as those who put everything up beforehand and knocked it all down again afterwards.
So, at 4 p.m. on Wednesday 3rd October, we opened the doors for a festival that looked much as usual. Sadly, we had no foreign beer bar this year with a range of foreign bottles, as the CAMRA member who has run it for many years has had to retire owing to family issues, and we had no-one else with the necessary expertise about continental beers. In view of the covid uncertainties, especially social-distancing requirements, we also decided not to have any musical entertainment this year. We said it would be a quiet festival, but quiet was not the word to describe the hall on the Thursday and Friday evenings, when the buzz of conversation rose to high decibel levels!
Supply problems prevented us from producing a special souvenir glass this year, another effect of the short notice, and transport difficulties – most pint glasses come from Turkey and are printed in the UK. To compensate, the miscellaneous range of CAMRA glasses that we used were available to our customers free of charge. Such is the innate honesty of beer drinkers that we got nearly all of the glasses back, to be passed on to CAMRA beer festivals elsewhere.
Nearly 100 different cask ales, together with numerous ciders and perries, a range of draught craft beers, including a small number of foreign ones, and wines offered a huge choice of beverages. Most of the beers were from fairly close by – another effect of the fuel shortages! – but in general they were ones not usually available in Bedford. Some volunteers living in Derby brought a few East Midlands beers down with them, though. Angelo's provided their usual excellent range of meals upstairs in the Howard Room, so no-one needed to leave the building for food, and you could drink beers brought up from the hall to wash down your meal. At the time of going to press the financial results of the festival have not yet been published, but observation suggests that numbers of customers were not too far down on previous years despite many people's lingering fears of covid. And the lively atmosphere was just like old times.
If you came, we hope you thoroughly enjoyed this return to normal life! If you didn't come, you missed a treat. And as for us volunteers, it was great to be back. The lack of beer festivals had left a gaping hole in our lives. Please keep enjoying CAMRA festivals, so that we can go on enjoying running them!
Fytton Rowland