Food and Beer Pairings
Saturday 13 February 2021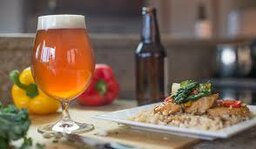 If you are reading this article then you probably enjoy beer, and if you are like me then you also enjoy your food. Most people can tell you which wine to pair with which food, but we rarely see beer pairings. As a general rule of thumb treat lighter beers as white wine and darker beers as red.
Golden and Lighter Ales
These beers tend to have a light body so go well with light foods:- Meats: Chicken and Fish Dishes: Pasta (without too much sauce), soups, salads, Chinese food. Miscellaneous: lighter cheeses such as Feta, Monterey Jack, citrus dishes (including salad dressings).
IPAs, Bitters and Brown Ales.
These beers have more of a medium body so can be quite versatile:- Meats: Beef and Pork Dishes: Richer pasta dishes (such as Spaghetti Bolognaise), burgers, pizza, sausages, fried foods and spicer foods such as jerk, Indian or Mexican. Miscellaneous: Other cheeses such as Cheddar, Swiss, Parmesan.
Stouts and Porters
With the heaviest bodies and stronger flavours these beers work better with heavy foods (those typically associated with winter):- Meats: Beef, Pork, Lamb, Venison and Game. Dishes: Stews, cottage pie, barbecued foods, chilli con carne, roast dinner and salty dishes. Miscellaneous: Stouts (especially the sweeter ones) work well with chocolate and desserts.
Always remember to drink and eat what you like as if you love drinking porters then you will probably enjoy them with anything you eat. Go forth and experiment, you may find some better pairings than those suggested.
Dan Veal